Even governments sometimes realise that spending money on health promotion – enabling people to increase control over, and to improve, their health – can be better than dealing with the consequences of not doing so.
In the UK, the Health Education Council (greatest hit: the 'pregnant man' campaign with its "Would you be more careful if it was you who got pregnant?" strapline*) ran government campaigns between 1968 and 1987, before a reorganisation (not entirely coincidentally following a row about a politically embarrassing publication about health inequalities) led to its replacement by the Health Education Authority in 1987.
When the UK government decided that Aids was in fact worth doing something serious about (about three years after gay and bisexual men in the UK started dying from it, followed by similar epidemics amongst IV drug users and then haemophiliacs), one of the things that pushed it towards that position was the way that Aids activists had deliberately chosen to emphasise the risks of bisexual men being responsible for the spread of the epidemic into the presumed heterosexual population.
The result was the first big 'Don't die of ignorance' campaign by the Department of Health and Social Security – the 'icebergs and tombstones' one – following which the HEA ended up with the responsibility to do national HIV/Aids health promotion work.
Here's are the ads that they did aimed specifically at bisexual men rather than 'gay (oh.. and bisexual) men'.
The 'hands' ad #1
Safety in Numbers by Edward King reckons this was first published in spring 1990. The HEA operated on the principle, given to them by their ad agency, that if they ran it, once, in about half a dozen magazines – the TV/radio listings magazine Radio Times, some car thing, etc etc – then 90+% of men in the UK would (have a chance to) see it.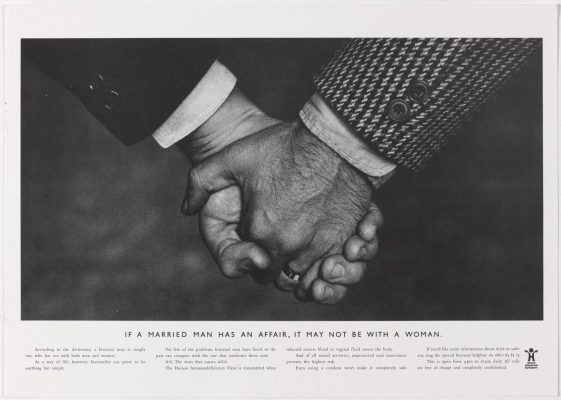 If a married man has an affair, it may not be with a woman.

According to the dictionary, a bisexual man is simply 'one who has sex with both men and women.'

As a way of life, however, bisexuality can prove to be anything but simple.

Yet few of the problems bisexual men have faced in the past can compare to the one that confronts them now.

HIV. The virus that causes AIDS.

The Human Immunodeficiency Virus is transmitted when infected semen, blood or vaginal fluid enters the body.

And of all sexual activities, unprotected anal intercourse presents the highest risk.

Even using a condom won't make it completely safe.

If you'd like more information about AIDS or safer sex, ring the special bisexual helpline on 0800 83 85 75.

This is open from 4pm to 10pm daily. All calls are free of charge and completely confidential.
It's hard to overstate how much the HEA loved this ad. Every time someone in the bi community pointed to some issue, like the implied class of the men photographed – look at the suit sleeves! – or their middle age or.. they'd point to the response from the advertising world who told them it was great.
They were working under some constraints. In particular, every. single. word. had to be signed off by a minister. Despite the personal behaviour of some politicians in the Conservative government of the day, at least one of them objected to a late draft of the ad which had the headline start "When a married man has an affair.." and insisted it be changed to something that didn't imply that affairs were normal.
The 'hands' ad #2
Although the first one may have had more than one run, in 1994 there was another run when a completely different body text was used. (As I say, the HEA loved the picture and the headline… and would not consider changing those.)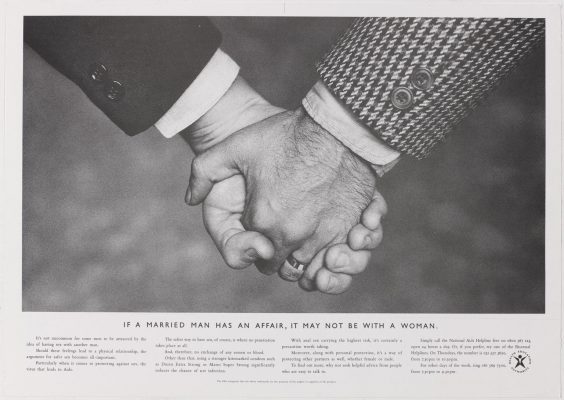 If a married man has an affair, it may not be with a woman.

It's not uncommon for some men to be attracted by the idea of having sex with another man.

Should these feelings lead to a physical relationship, the argument for safer sex becomes all-important.

Particularly when it comes to protecting against HIV, the virus that leads to Aids.

The safest way to have sex, of course, is where no penetration takes place at all.

And, therefore, no exchange of any semen or blood.

Other than that, using a stronger kitemarked condom such as Durex Extra Strong or Mates Super Strong significantly reduces the chance of HIV infection.**

With anal sex carrying the highest risk, it's certainly a precaution worth taking.

Moreover, along with personal protection, it's a way of protecting other partners as well, whether female or male.

To find out more, why not seek helpful advice from people who are easy to talk to.

Simply call the National Aids Helpline free on 0800 567 123, open 24 hours a day. Or, if you prefer, try one of the Bisexual Helplines. On Thursdays, the number is 031 557 3620, from 7:30pm to 10:30pm.

For other days of the week, ring 081 569 7500, from 7:30pm to 9:30pm.
Looking at assorted old files, I can see that we were told that this run would appear in Radio Times and TV Times (TV listings magazines) plus the Sunday Express / Observer / Mail on Sunday's "You" supplement (newspapers).
Discussions with the HEA about the cost of expanding the number of days that the London Bisexual Helpline would operate were happening in February 1994 and described the notice we were given about all this as "short".
By November 1994, the London Bisexual Helpline was back to opening on just Tuesday and Wednesday evenings, so the run must have been before then. They did tell us around then that they were going to run the ad again, but they didn't pay to have the London line expand to six evenings again, so if it did actually happen – around Christmas? – the text may have changed slightly to reflect that.
The absolutely not bisexual, really, honest 'torsos' ad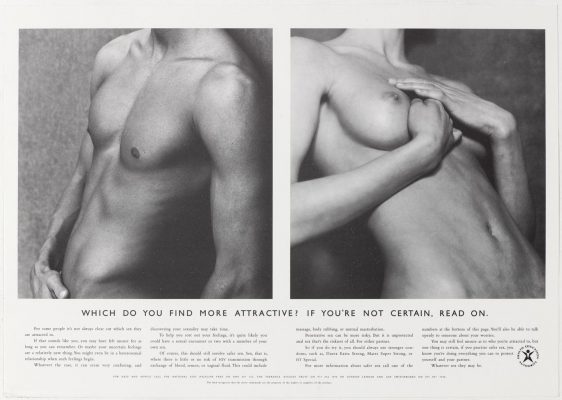 Which do you find more attractive? If you're not certain, read on.

For some people it's not always clear cut which sex they are attracted to.

If that sounds like you, you may have felt unsure for as long as you can remember. Or maybe your uncertain feelings are a relatively new thing. You might even be in a heterosexual relationship when such feelings began.

Whatever the case, it can seem very confusing, and discovering your sexuality may take time.

To help you sort out your feelings, it's quite likely you could have a sexual encounter or two with a member of your own sex.

Of course, this should still involve safer sex. Sex, that is, where there is little or no risk of HIV transmission through exchange of blood, semen, or vaginal fluid. This could include massage, body rubbing, or mutual masturbation.

Penetrative sex can be more risky. But it is unprotected anal sex that's the riskiest of all. For either partner.

So if you do try it, you should always use stronger condoms, such as, Durex Extra Strong, Mates Super Strong, or HT Special.

For more information about safer sex call one of the numbers at the bottom of this page. You'll also be able to talk openly to someone about your worries.

You may still feel unsure as to who you're attracted to, but one thing is certain, if you practise safer sex, you know you're doing everything you can to protect yourself and your partner.

Whatever sex they may be.

For help and advice call the National Aids Helpline free on 0800 567 123, the Terrence Higgins Trust on 071 242 1010 or London Lesbian and Gay Switchboard on 071 837 7234.
This is screamingly obviously a 'bisexual' ad. By definition anyone attracted to more than one gender is bisexual, regardless of whether or not they are attracted "more" to one gender.
The HEA absolutely and totally refused to accept that. They did show the ad before publication to their bisexual advisory group, but only to say that it wasn't a bisexual ad: it's for "confused" people.
They also absolutely and totally refused to give the details of the bisexual phonelines on this one. They did have the number of the then very definitely biphobic London Lesbian & Gay Switchboard – typical response to bisexual callers: 'you're the only one' / 'you're lesbian/gay really' – on it though.
Marcus's response was a version that had a picture of a male chicken and a cat, and wondered if you preferred cock or pussy…
Looking back, the HEA's bisexual advisory group should have resigned en masse at this point, in the way that their gay men's advisory group – which included the bisexual David Burkle for at least some of its time as well as some rather less bi-friendly men – had done on being presented with a particularly awful ad aimed at young gay men*** that, again, the HEA loved.
I doubt anyone would have noticed if we had; the HEA continued to pay the expenses of a bunch of bisexual activists to get together to talk about bisexual health stuff; and the sandwiches they provided were excellent.
We should have still done it though – having looked at the (not particularly large) bunch of health promotion ads aimed at bisexuals, this could have been by far the best of them and yet the HEA insisted on the bisexual erasure.
In 2005, the Health Education Authority was in turn abolished in yet another health reorganisation, with the health promotion bits going to Health Promotion England (and its Welsh equivalent) with research etc going to the Health Development Agency (2000-2005). According to the National Archive, they lost the HEA's papers between 1994 and 1998. The HDA in turn would be replaced in yet another health reorganisation by the National Institute for Health and Clinical Excellence (NICE). That in turn was renamed in…
---
* Created by the tiny agency that would become the global giant Saatchi & Saatchi, this was such a hit that the agency named its canteen/bar 'The Pregnant Man'. They did some other work for the HEC, then had to resign when they decided to work for a tobacco company instead.
** It turned out later, thanks to some research that was condemned in the Daily Mail etc, that 'strong' condoms don't provide any benefits compared with 'ordinary' ones. Using lube, especially for longer fucks, is far more important.
*** I don't think it was finally published, but the HEA's concept of an ad for young gay men on the gay scene – so many of them obsessed about looks – was a picture of a very old man – wrinkles, hair loss etc – with the headline something like "If you have safer sex, you could look like this".
!
The HEA loved it because it was so clever – 'How do you do, fellow kids? Have safer sex and you won't die young!' – but I would have loved to have been in the room when they presented it to people who had clue.