For BiCon 97, someone brought along a small pile of zines – primarily 'ConRunner' – for SF con organisers.
I had a look at them and while much wasn't relevant to us – there are reasons why we don't use hotels or pay for writers to come and speak or have a 'green room' where celebs can escape attendees – one of the things I really liked was the idea of having a document that said what the event was, what distinguished it from other events, so that attendees and organisers could both know what to expect from it.
OK Ian, what makes a BiCon 'a BiCon'? Erm…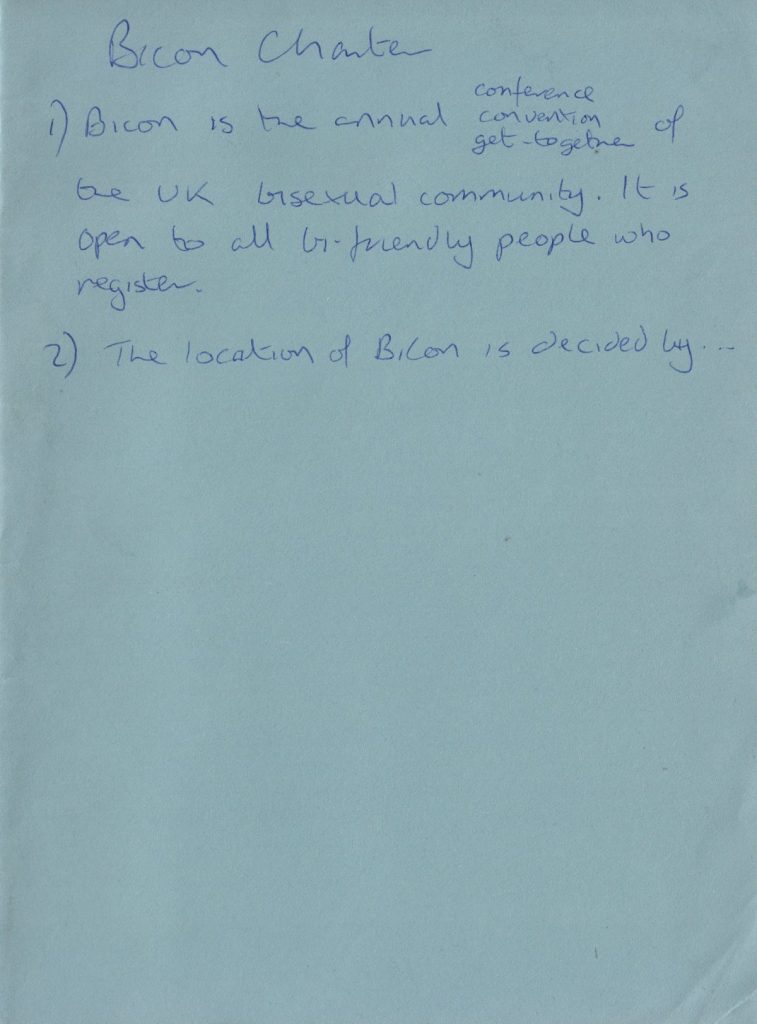 Bicon Charter
1) Bicon is the annual conference / convention / get-together of the UK bisexual community. It is open to all bi-friendly people who register.
2) The location of BiCon is decided by…
---
.. and that's as far as I could get.
Even so, I showed it and the zines that had inspired it to a few people.
It would probably have stayed like that, except Rowan turned up at BiCon 98 with a set that was passed unanimously there. (I have no idea if they remembered seeing my failed attempt at writing some.)
It almost certainly helped that that year's organisers had earlier attempted to do away with the Sliding Scale and one of the guidelines made it very clear that the sliding scale was something that should happen: it's one of the things that makes a BiCon 'a BiCon' that I couldn't think of in 1997.[1]Mostly because I couldn't imagine any BiCon not having one – which is a sign that I really should have thought of it!
Since 1998, they've been updated a few times and the current version is here on the BiCon.org.uk website.
The other thing I really liked from the zines was the idea of calling the loose groups of people who organised SF cons 'the Secret Masters of Fandom' or 'SMoF': they're not secret and the idea that someone could tell SF fans what to do is also part of the joke.
Fortunately(?) my suggestion of calling Continuity 'the Secret Masters of BiCon' or 'SMoB' for similar reasons was thoroughly rejected by everyone else involved…