Following his visit with Tom Brookes to BiCon 13 in Birmingham at the start of September 1995, Adam Jeanes, the then chair of The Pride Trust wrote to people who'd given their details as being interested in being involved with the Pride celebrations in London: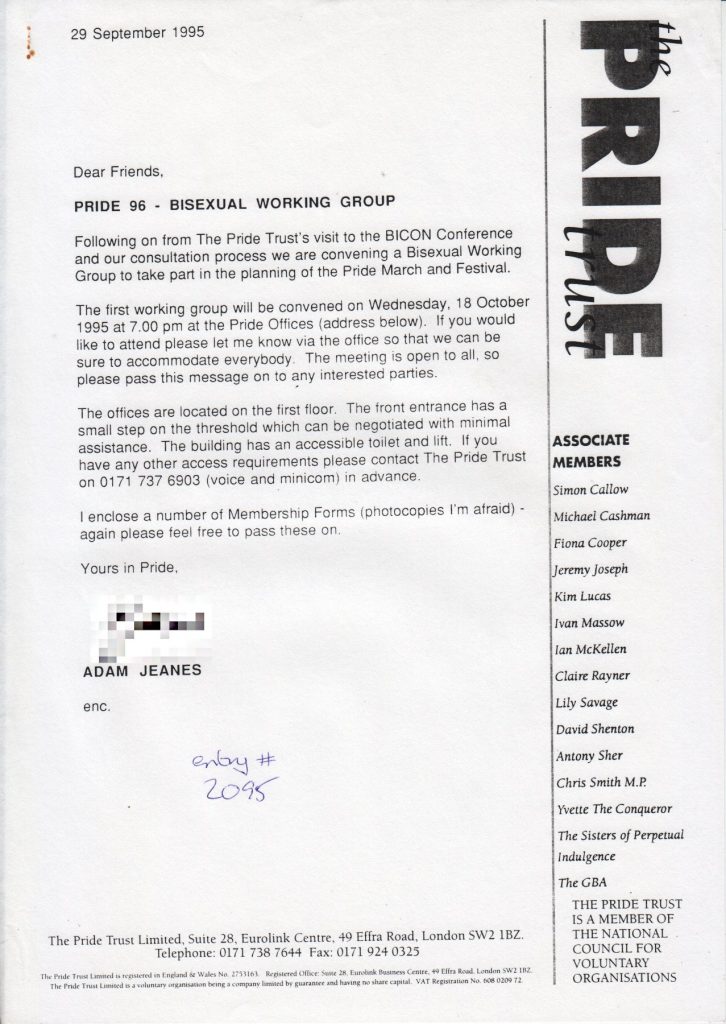 29th September 1995
Dear Friends
PRIDE 96 – BISEXUAL WORKING GROUP
Following on from The Pride Trust's visit to the BICON Conference and our consultation process we are convening a Bisexual Working Group to take part in the planning of the Pride March and Festival.
The first working group will be convened on Wednesday, 18 October 1995 at 7.00pm at the Pride Offices (address below). If you would like to attend please let me know via the office so that we can be sure to accommodate everybody. The meeting is open to all, so please pass this message on to any interested parties.
The offices are located on the first floor. The front entrance has a small step on the threshold which can be negotiated with minimal assistance. The building has an accessible toilet and lift. If you have any other access requirements please contact The Pride Trust on [phone number] (voice and minicom) in advance.
I enclose a number of Membership Forms (photocopies I'm afraid) – again please free to pass these on.
Yours in Pride,
(signed)
ADAM JEANES
enc.
---
The letter was photocopied before being sent to everyone, hence the slight slope to all the lines.
Associate members listed are Simon Callow, Michael Cashman, Fiona Cooper (I think, this one), London scene club promoters Jeremy Joseph (G.A.Y etc) and Kim Lucas (The Candy Bar, Summer Rites etc), Ivan Massow, Ian McKellen, Claire Rayner, Lily Savage, cartoonist David Shenton, Antony Sher, Chris Smith MP, gay club host Yvette The Conqueror, The Sisters of Perpetual Indulgence and the Gay Business Association (GBA).
The interior front door of the Eurolink Centre has a keypad lock whose then entry code I've squiggled on my copy of the letter[1]If the building's owners haven't changed the code all these years later, they might as well not lock it! – presumably I'd rung up to let them know I was coming and been told the code. It was certainly easier than ringing the office from reception to be told it / have someone come downstairs to let you in.
At least eighteen people were at the meeting. By the end of the third one a few weeks later, I was the Male Coordinator of The Pride Trust's Bisexual Working Group…