The story of bisexual involvement in London's Pride event during the 1990s ended with optimism: Lesbian, Gay, Bisexual, and Transgender Pride 97 had been a huge success, both for its organisers, the Pride Trust, and the bi community.
After it, everyone was looking forward to LGBT Pride 98, but it never happened. This is the story of why it didn't and what did happen.
The end of the Pride Trust
Shortly after the event, the Pride Trust were told by London Transport that they reckoned LGBT Pride 97 had been the cause of a million extra journeys on the day compared to a usual Saturday at that time of the year. Even if people went 'home – march – festival – home', that would be at least a third of a million people at the festival.[1]If they went 'home – march – festival – club – someone else's home – home', it'd still be 200,000 people and obviously many people skipped the march and went 'home … Continue reading
Although a large chunk of the money for the event was raised by getting sponsorship – this was one of the things Outrage didn't like, not least as one big sponsor, United Airlines, weren't great employers of LGBT staff in the US – and selling concessions for things like food, drink, and fairground rides at the festival, plus licensing the rights to produce the programme,[2]The publishers would make money from selling ads in it. this wasn't enough to cover the cost of the event.
So at the entrances to the festival, on the screens showing the main stage, and in the event's programme, people were asked to donate £3 each. That letter from Adam Jeanes mentioned that the collection on the day had raised £238,000. We know, thanks to London Transport, that it is inconceivable there were fewer than 100,000 people there, so obviously plenty of people didn't donate £3.
It turned out that Pride Trust's expenditure in running that year's event exceeded their income by about £60,000. Had 100,000 people given £3, Pride Trust would have been fine. They didn't, so it wasn't.
An appeal to various gay-owned businesses went unheeded, one of Pride Trust's most reliable fund-raisers, 'Winter Pride', never happened, and the Pride Trust went into liquidation. Members were never asked for the quid they promised to pay in the event that happened, but they certainly didn't have sixty thousand members.
Puke
Soon three groups were competing for the right to run the festival. In the end, one particular bunch called 'Freedom UK' announced that they would definitely be running Pride '98 in July on Clapham Common. A little while later, when they'd actually got permission from the local council to do so, they changed their name to Pride Events UK, otherwise known as 'PEUK'.
For reasons that will become obvious, I started calling them 'Puke' and predicted that they would 'fuk' up – it was clear to me right from the start that they would.
Part of the announcement included the comment that the 'bisexual and transgender' part of the event's name would be ditched. Apparently, 'lesbian and gay' was "more inclusive".
As the character of Field Marshal Zhukov would say some years later in The Death of Stalin, "I mean, I'm smiling, but I am very fucking furious".
Incredibly, despite that slap in the face they were very happy to announce they'd have 1998's most famous trans person, Eurovision Song Contest winner Dana International, as a headline act to attempt to sell tickets.
Sell tickets?!? Oh, this year there would be a £5 charge. There might or might not be any concessions[3]In the end, their publicity said that 'concession' price was £3. and just 100,000 people would be allowed in, so 'buy those tickets now!'
It is only twenty five years later that I notice the very tiny writing that says 'Lesbian, Gay, Bisexual, Transgender' on the 'march' side of the Pride 98 flyer. There's nothing like it on the 'festival' side: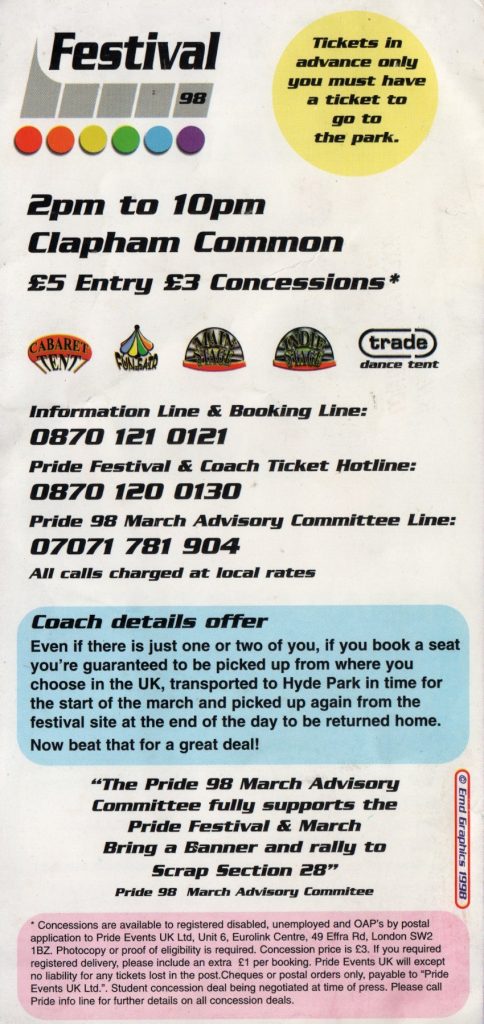 .. which has much more on the incredibly optimistic (and unpriced) promise that even if just one person booked a coach to London from somewhere, a coach would be provided. I don't believe 0870 numbers were ever charged "at local rates" either.
Because by this time it was several months behind the Pride Trust's planning schedule, they said they would have the same layout as in 1997.
In June, after the deadline to include the news in Bi Community News had passed, they said 'Oops, we didn't mean that . One of the things that's going is the Bi Tent.' An offer of a free stall, either in the market or health tent, was translated by someone as 'in the health tent' and bi activists involved in previous Prides got even more upset at being treated as just a health issue…
… as we can see from a couple of extracts from things sent to a mailing list for the bi input into Pride:
We have the word of people like Adam Jeanes, chair of the Pride Trust, that our presence sweetened the festival in '96 and '97. We were an integral part of the biggest queer event of the year, having got both the name and PT's mission statement changed to be inclusive.

This didn't just happen because a few people at PT wanted it to happen, we did a lot of work to ensure it was a success, including a lot that wasn't generally visible. There were some whinges in the pink press following the decision to change the name, but I can't remember any complaints following either festival about our presence. Nothing I can recall any in the private feedback to PT either.

So we were a part of PT. Let's imagine Pride was a major employer instead of a major event. It has financial problems and is taken over by another company. It would be illegal for the second company to treat the workforce the way we've been treated: thrown out without any consultation.

[Commerical lesbian and gay festival] Summer Rites has shown it's quite possible to organize another festival from scratch, it's just harder work. PEUK don't want to do that, they want the great benefit of the Pride name and the event's goodwill. Fine — but they should live up to their responsibilities to everyone involved.

For 1001 reasons, we should be a part of the Pride festival (which, for at least 95% of the people *is* Pride).

I don't think we have the numbers to 'spoil' the festival, even if we wanted to. As I said some time ago, I also think the organisers are going the right way to undermine its success themselves. Does that stop us making our point, giving them a helping hand 🙂 and having some fun while doing so? No.
Remember that "I also think the organisers are going the right way to undermine its success themselves" comment.
I am still of the opinion that the question is not, do we want to do something about this, but how nasty do we want to be about it.

What we have is some severely pissed off people, who have had something taken away from them. Unfortunately, there are not very many such people, in comparison to the numbers expected at the festival. A boycott, for example, would go unnoticed.

Similarly, I suspect that complaining outside the festival walls is not going to be of much use – I'll be amazed if there is not going to be a substantial number of people without tickets outside and a police presence trying to keep order. (Mind you, it would only take a light step ladder to get over the size of fence used in the past, and it is a very long boundary…)

Come the planning for next year's event however, I suggest we have two advantages. Firstly, it doesn't take many people to get a majority at any consultation meetings. Secondly, the festival this year is almost bound to be a disappointment compared to last year's, being smaller and not free plus it can't be better weather, so there's not going to be a great deal of goodwill for PEUK around.

Let's find out who the sponsors are for this year. Tell them how sad we are that they are sponsoring such an exclusionary event. It's not doing their image any good to be associated with it. Has the 'official' magazine come out yet?

Find out who *is* appearing at the festival. Ask them to comment while on stage.

I've also been pondering media coverage. For the print media, we've missed the magazine deadlines and I don't think there is much point in making a fuss outside the pink press, unless anyone has some contacts in the mainstream who will do the story properly. Having said that, John Lyttle in the Independent may have his problems, but he has done serious journalism in his column and might be interested. In contrast, I don't think Paul Burston at Time Out would be.

TV/radio is a different story. We could suggest to those 'issue of the day' shows that keep asking every so often for bi people that here is an opportunity to see some people shouting at each other, i.e. their idea of good TV. Would PEUK do a programme on Pride? If not, there's a story for the pink press for a start.
They never did meet us. They were too busy counting their chickens.
On paper, their plan must have looked great. PEUK reckoned that it would cost them £440,000 to run the event. (As a non-free festival they were being charged more than the Pride Trust had been for various things like renting the space on Clapham Common and support from the police.)
But ticket income would more than cover that and sponsorship money plus selling concessions would net at least £200,000 more. Result: a very healthy profit. And for almost no risk too – if 250,000+ people had come in '97, surely they could get 100,000 people in '98?
No, they couldn't. With a few weeks to go, hardly any tickets had been sold.
Oh no! Because they didn't have any other sources of money to pay upfront costs, there wasn't enough to pay deposits to the council or suppliers. It probably didn't help that in June they'd only just started selling tickets and their official web site wasn't up yet (and you thought bisexuals left things to the last minute…)
One gay travel website promoting the event to its visitors said (emphasis mine):
"The event on the park will run from 14.00 to 22-00pm. This year there'll be more bars than ever before, a market area, a selection of community tent (sic!), 2 massive dance tents and 2 stages, with indie, mainstream acts and despite the rumours a fun fair as well."
By the end of June, they announced that the festival was to be 'postponed' to August. Only a handful of people believed them (and it turned out that they hadn't bothered to ask the council if that were possible).
Two weeks later, they announced it was cancelled.
This is why I reckon BiCon is the UK's oldest continually running annual LGBT event: there was no 'Pride' event in London in 1998, and there's been a BiCon every year since 1984.
Adam Jeanes then announced that he had the rights to run EuroPride '99 over two days in Hyde Park.[4]The Pride Trust had owned the UK registered trademark for 'EuroPride', but it looks like that lapsed while in control of the bit of the government that gets such assets of collapsed companies without … Continue reading Sadly nothing much was heard of this again, because it would have been much better than what did happen.
There was a small march in July, thanks to a small group of people (including me) and community groups, with help from a grant from Gay Times and Diva. It was LGBT, not 'lesbian and gay':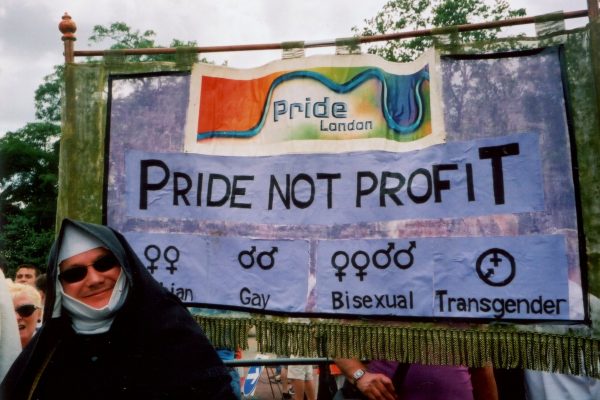 It was less than a quarter of the size of the '97 march, but a new bi-inclusive community body, Pride (London), was created to organize future marches as a result.[5]At one early meeting, Pride (London) decided that they didn't have the resources to be part of that EuroPride '99, and that may have been a factor in it not coming to anything.
Mardi Grrrr
So by the time 1999 arrived, another bunch of businessmen had announced that they would absolutely definitely be running Pride '99 on Clapham Common. Except that it would be called 'Mardi Gras'.
The people behind Mardi Gras were headed by Kelvin Sollis, the lesbian and gay community's answer to Rupert Murdoch and by then the owner of the Pink Paper, Boyz, and various other titles via publishers Chronos.[6]The group had numerous other names including Windwood, Mindmaster, Boyz Own Productions etc etc, but this is the name that was best known. For more on the delightful Kelvin, and his attitude to company law, see Outcast magazine's article on him by the wonderful Chris Morris[7]The gay activist whose actions led – after a year's delay, thanks to Stonewall agreeing a bad deal with the then Labour government, but that's another story – to the equalisation of the … Continue reading
The new organisers said they included representatives of organisations not then known for being bi-inclusive like London Lesbian and Gay Switchboard and Stonewall. Presumably, they were promised a slice of the profits.
Since tickets this time would be £10, there should have been plenty to go around. Justifying the price, Sollis' Pink claimed the event would cost £1.2m but failed to explain why costs had nearly tripled since 1998. Perhaps the commercial partners, including concert promoter Harvey Goldsmith, charged a lot.
Or maybe the price was arrived at by studying the extensive Pride marketing survey, carried out largely through Chronos titles and which "forgot" to ask about a bi tent in its community section, rather than any real relation to the costs.
In charge of actually running the event was Mardi Gras' General Manager, Anthony McNeill. He'd been imported from the notoriously biphobic Sydney Mardi Gras (which later went bust itself – the replacement is much better.)
His first words on meeting someone from the bi community who wanted to talk about our involvement were "we're not re-branding". Pride, Bi and Trans were all to be dropped in favour of the 'inclusive' title that excluded us.
Chronos' titles were known for not liking rivals,[8]When Capital Gay closed, Chronos quickly started a replacement paper, Gay Gazette, to stop anyone else trying. Having succeeded in that, they then closed it after a few months when it was too late … Continue reading not annoying their advertisers with irritating questions or critical articles and not having high staffing costs – they tended to be one of their most regular advertisers in their own publications, looking for more 'trainees' or yet another editor. Recruits tended to add the job to their CV and move on to somewhere that paid rather better.[9]An idea of the turnover of staff is given in an article in the Independent at the time which noted that despite never having more than thirty staff, Chronos had had over seventy people leave within … Continue reading
Given this record, it should have surprised no-one when the Pink said that the 1998 march would be a fluffy parade, with grants for some pretty floats, not a nasty political march with horrid placards complaining about things. They hadn't bothered to ask the members of the company actually organising the march, Pride (London), of course but various Chronos employees were in key roles there.
The Pink later admitted that, oops, there wouldn't be any floats – no-one had bothered to get the necessary permission – but there would be grants and sewing circles for nice costumes in pretty colours, so people could be organised to walk in order of the colours of the rainbow flag!?!
It still, they said, wouldn't be a political march, despite continuing outstanding political issues such as an unequal age of consent, the continuing presence on the statute books of the homophobic Section 28, and a recent racist and homophobic murderous nail-bombing campaign.
Then the venue for the festival was changed to the smaller Finsbury Park.
About a week before the festival at a Pride (London) meeting, some of the Chronos employees let slip that, just as had happened in 1998, a tiny number of tickets had been sold. Less than 10% of the 65,000 available in fact.[10]Given that £10 x 65k is only just over half the claimed cost of the festival, this shows how much money was charged for sponsorship and concessions that year. Perhaps people were trying to puzzle out how the time of the festival, 2pm-9pm, translated into the "8 HOURS OF PARTYING" promised by innumerable ads in Chronos titles.
Reading their editorials that week was hugely amusing for those of us in the know. Boyz for example bemoaned the fact that hardly anyone had bought a ticket, although they didn't quite put it like that:
"I dunno why, but while queens will plan their outfits days in advance [..] they always seem happy to leave the most important purchase until it's nearly too late."
Perhaps it was the Official Programme that was putting people off. There were certainly some odd omissions from it. For an organization that boasted of its community involvement, there was no list of the "partners" of Mardi Gras, just a pic and a few words ("Welcome to the inaugural London Mardi Gras, the new lesbian and gay celebration to take our diverse communities into the millennium. blah blah blah.") from Anthony 'no rebranding' McNeill.
There were also smaller pics for the Pride Arts Festival co-ordinator, Events co-ordinator, Mardi Gras's spotty teenage receptionist, the Parade Director, and the Creative co-ordinator.
What was in the March, sorry Parade, section? Well, not only did the word 'bisexual' not appear there, the words 'lesbian' and 'gay' didn't either!
OK, they were there once ("The gay and lesbian scene in the 90s hasn't really been the most colourful place…") on the page on costumes, aka an excuse to show some (male) tits. I'm sorry, but stripping to the waist and sticking a sailor's hat on does not count as a "costume".
Just before that, there was a list of "five things not to do on the London Mardi Gras (sic) Parade" (remember, it wasn't Mardi Gras that were organising the march, but the bi-inclusive Pride (London)):
1: (fail to dress up)
2: No-one cares if that copper is really straight, so chanting ditties like, "We're here, we're queer and we're not going shopping" are seriously out. Arias from Carmen, however, are actively encouraged.
3: (don't drink lager, buy tequilla)
4: (don't do drugs)
5: Leave the whistle-blowing to Kara Noble (get a rattle instead)
OK, but at least the acts on the main festival stage would be good, I mean they've got piles of money to pay for them. Who's there? Gosh, the top acts will be Marc Almond, Ultra Nate, Jimmy Sommerville, Billie Ray Martin, The Creatures and Phats & Smalls.
Ooooops, that's Summer Rites 99 [the alternative commercial festival]. Mardi Gras has Boy George, five indistinguishable boy bands, Human League, Gary Barlow. Oh, and the Weather Girls will sing their greatest hit.
What else was there going to be in "the most colourful and diverse Gay and Lesbian event EVER in the UK"? Well, people selling you overpriced food. A fun fair selling you rides ("we won't mention the smell of spilt poppers on the upside-down rides or the number of stillies spoiled by vomit"). A market place with a staggering 48 stalls – fewer than a third the number that LGBT Pride 97 had. They were also helpfully listed so you could see that "the huge selection" including "spokespeople from your fave political parties and trades unions" meant the Lib Dems had a stall. Assorted club tents selling you alcohol. And according to the Official Programme, that was it.
And that was supposed to cost over £1m to put on?!? All I can say is that they must have been paying themselves and Harvey Goldsmith one hell of a lot, both directly and through advertising in publications they own. (I wonder how much the spotty teenage receptionist got?)
As Mardi Gras didn't give Switchboard as much money as they'd been promised upfront, they weren't in the mood to provide space for other community groups, and I don't think anyone from the bi community paid to have a stall.
If you never saw the map of the festival, think of a fiddler crab (one with one front claw much bigger than the other). The little left claw has the Candy Bar/Kitty Lips women's club tent, the big right claw has gay men's club Trade at one end, a big toilet block in the middle, and the Radio One roadshow next to the 'picnic area' (i.e. the "we didn't want to pay for anything area"), fun fair, food outlets and that small market place.
Stuffed into the west side of the 'body' are yet more club tents side-by-side (resulting in some serious noise spillage problems) and the main stage, plus more toilets. At the mouth, there's a "orchestral tea tent" i.e. the London Gay Symphony Orchestra.
Aptly enough, the punters arrived up the crab's bottom…
As I said at the time:
"Looking at it, it is abundantly clear that Mardi Gras is an out-and-out "let's make money" Summer Rites clone rather than an attempt to do a Pride Festival. Never mind no cabaret stage, there's no health tent, women's space (apart from a club tent stuffed in one corner), etc etc etc. No wonder they weren't interested in a bi tent.

True diversity means more than having eight commercial club tents playing house and techno music to choose from.
I went – I can only think that there were some free tickets for people involved with Pride (London) – and it was indeed shit.
Fortunately for the Mardi Gras bank account, a substantial number of tickets were sold on the day (at £12 each) largely to people coming from outside London.
Even so, the businessmen who repeatedly slagged off the Pride Trust for incompetence and failed to help it in its hour of greatest glory and greatest need to the tune of £60,000 still managed to lose over £100,000.
Sadly, thanks to the profits of Boyz, they survived that.
For the event in 2000, Mardi Gras tried to take over the running of the march (as it should have been) / parade (as they wanted). Pride (London) resisted that – members were very attached to its political identity, something Mardi Gras seemed to regard getting in the way of them making money – including by attending the community forums that Mardi Gras ran.
Those forums stopped happening after that year's event. Mardi Gras' Festival Director Jason Pollock said that the reason there was "no need" for a community forum before the 2001 event was that it going to be "identical" to the 2000 one!
In 2002, the event was switched from the originally announced Brockwell Park, site of several hugely successful Pride Festivals, to the relatively hard to get to windswept swamp of the Hackney Marshes. Perhaps because of the need for more active encouragement for people to go, the forum reappeared…
The Pride Parade – who said dropping the word 'march' was a foregone conclusion – team has been listening to our bosses.

As a private for-profit organisation, we don't want any nasty politics getting in the way of the money.

So what if Section 28 is still in place in England and Wales? Who cares that the government are delaying until the very last minute before complying with a EU Directive that'd mean an end to workplace discrimination? We don't!

We want as many suckers (and lickers, and hell straight people if they're prepared to buy a ticket) to come to the 'festival' as possible. Ghod knows it's going to be difficult to persuade people to go to the windswept out of the way swamp that's this year's venue.

Oddly, compared to the community owned events we're having an awful problem getting volunteers to run this. Please help us make money off the community. Go on. Go on. Go on.

We're even prepared to talk about the LGBT community in the article in our house magazine, the Pink Paper. OK, it's in the last sentence and everywhere else only talks about 'lesbian and gay'. Who knows? In twenty years' time, we might even have 'bisexual and transgender' back in the event's subtitle.

So dress up, be there and we'll be the centre of world media attention on July 6th – with a total of six column inches of UK coverage instead of the usual five. And we all want six inches, don't we?
Oops, that was my version. Here's what Mardi Gras actually said:
Update on the national Pride Parade

The National Pride leopard is changing it's (sic) spots…

The Pride Parade team has been listening carefully to you and is now taking action. The old March & Parade is emerging, chrysalis-like, into a more spectacular and colourful Pride Parade. Prouder and bigger than ever and still the centre of world media attention on July 6th as thousands make their way through the centre of our capital city.

So what was wrong with the old march?

Times have changed and so have you. The LGBT community is still well and strong but throughout our 30 year history since those early Stonewall days the world and the nature of gay lifestyle has changed. Just as the Mardi Gras festival is responding to the demands of change so, we feel, should The National Pride Parade reflect these changes in attitude.

All right so what's new?

Colour, spectacle and excitement. What more do you want! The 2002 Parade on July 6th is seen as a sea change from past 'marches'. It's an opportunity to show your own individuality through style, costumes, fabulous floats, music and celebration. Use your imagination and enjoy this one day of total freedom of London's streets. And it's all legal!

How does it all work then?

Currently (and let's not get too boring about this) we are under the control of the police as a political demonstration- so lots of restrictions apply. Next year, however, things will change as we work directly with the Westminster City Council and are allowed more floats, more spectacle, more music and much more fun. So let's say thanks to a tolerant attitude from the Metropolitan Police this year is something of a dress rehearsal for the shape of things to come.

So what happened to the politics?

One thing we will never do is turn our back on LGBT issues. OK, so we've come a long way but it's still not far enough. Yes, we have lots to change and we need your help to tell the world but in the modern world of spin-doctors spectacle is news. Come loaded with banners and slogans; in fact let us make them for you! Free pairs of tickets to Mardi Gras for the 10 best slogans which we will transform into colourful free banners for all on the day. Check [their crappy website] and register your slogan now!

What about one of those float things?

Anyone can organize one; first think of a theme and then look at our comprehensive float pack on the web. Those push pull type ideas are probably best unless you want to hire a big truck with a beefy driver……..!

Hey, but I've got a Pride parade near me isn't that enough

Yes, attend your local Pride Parade but don't forget that London is the national event and where we make our demands long, loud and clear not only with the politicians who control the country but also the international media. So make a point of coming to London for the big event. Be seen and be proud!

Meet your old friends (and probably lots of new ones) in Hyde Park

To make it easy we have designed specific meeting areas by region, by club, group or old tricks! These meeting points will be published on the web site and in our official guide nearer to parade date.

Can you advise me about travel and London accommodation?

Check out the travel pages on our web site. We even have a specialist accommodation agency, Rainbow Holidays, Rainbow guarantees a gay-friendly welcome at the hotel of your choice (and to suit your budget). If you belong to a LGBT group we even have details of your local coach companies. If you are organising a group of more than 10 people call Rory at the office for information on leader travel reductions. Optional rail travel is available from all major UK stations.

PRIZES PRIZES PRIZES!

There's more. Firstly for the best 50 costume designs sent to Mardi Gras we will give free tickets to Mardi Gras. On the day? If you're wearing a costume (and let your imagination run wild) our judges will be cruising the Hyde Park meeting area and giving away free, yes free, tickets to Mardi Gras for those of you wearing the most over the top or colourful couture cocktails. And that's not all…you also get to appear in the Main Street Parade in the park at 4.00. Disneyland eat your heart out! And don't forget all you float designers there are also prizes for the best floats both motorised and non-motorised. So get designing and building.

And another thing..!

If you are part of a gay charity or group there are a limited number of free stalls available at Mardi Gras. Just call the office on 0207 [xxx xxxx] for details.

I get the basic facts but might want more…..

Just check our web site .. under pride parade for all you need to know about floats and costumes and all the fine detail bits. Have a great time and remember we are here to help. Just call us on 0207 [xxx xxxx]. Have a great day on July 6th.
The advertising did mention "LBGT" once, but then called it "THE TOTAL LESBIAN AND GAY EXPERIENCE" in larger type: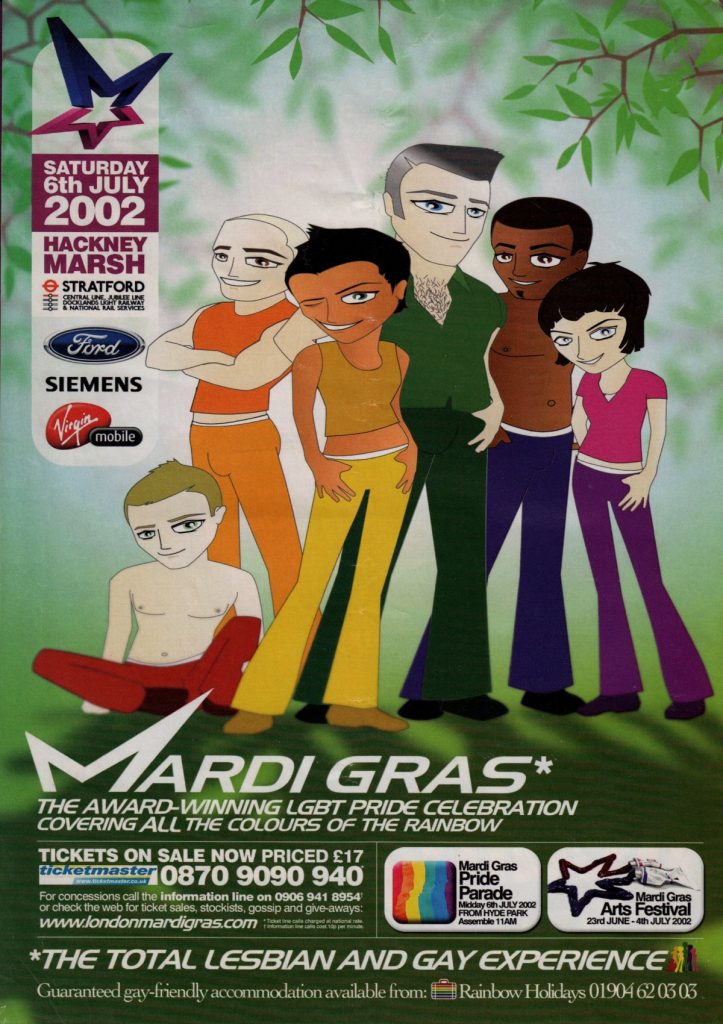 The 'award-winning' was doubtless a reference to one of the Pink Paper or Boyz own awards, but look at the colour of the trousers of the six cartoon characters! They're in the order of the Gay Pride flag!!
Also note that if you wanted a "concessions" ticket, you had to ring a premium-rate phoneline.
Entirely predictably, despite Boyz et al lying about how easy the venue was to get to, hardly anyone went. Those that did found it was a 45 minute walk from Stratford station to the event and rain meant that it was indeed a marsh.
The company behind Mardi Gras lost "around £552,895"[11]Figure from Kelvin's Pink Paper – I love the "around"! – I bet Kelvin wished he'd dipped into his pocket for a tenth of that amount back in 1997… – and was only saved from bankruptcy by paying creditors a few pennies for each pound they were owed.
Despite that disaster, in July 2003 they managed what Pride Trust had been hoping to do for years: run the festival in Hyde Park. Unlike in the Pride Trust years, you could look at a poster for 'Pride in the Park' and not realise it was a lesbian and gay event.
I went – my then workplace paid to have half a stall there – and it was still shit.
One controversy was that (for licensing reasons?) no alcohol was for sale inside. Instead, you had to buy tokens that were accepted by the various bars inside the fence and, after the event, some people were left with £20 or more of tokens they had bought with no prospect of a refund.
Unlike the Pride Trust's events, there was no balloon release to remember people living with HIV, but some balloons did try to do the sensible thing and escape the event. I also left as soon as my slots on work's shared stall finished.
In August, Kelvin's Pink Paper quoted director Jason Pollock as saying "I am confident that we sold enough tickets" – meaning less than a fifth of the numbers who had attended Lesbian, Gay, Bisexual and Transgender Pride in 1997 – "and therefore we will be able to put on the festival again next year without any problems."
Ha, no.
It was very quickly realised that 'Pride in the Park' had lost over two hundred thousand pounds again and the Mardi Gras company was liquidated in October 2003. In his Pink Paper, Kelvin Sollis blamed the directors of the company: "The senior directors have ruined what could have been a successful event."
I'd still be laughing about how much money the self-proclaimed seriously successful businessmen behind Mardi Gras lost over the five years they ran it as a "for-profit" organisation – only one of those years made even a small profit – but much of the loss caused by their incompetence was bourne by their suppliers. Plus the Royal Parks don't take not getting their money lightly and if you've ever wondered why there has never been a 'pride' festival in Hyde Park or any of the other Royal Parks since 2003, this is why.
Having seen off Mardi Gras, I left working with the organisations that followed them to other people. The story of bisexuals at Pride in London from 2004 is theirs to tell, and I hope that publishing this will encourage them to do so.
Before I end, I bet you're wondering..
Whatever happened to…?
Pride (London)
After stringing the organisers of the march along, in 2001 Mardi Gras stopped all financial support and all of the Chronos employees resigned from their roles. With no time to find replacements, or raise the necessary money, Pride (London) sadly had to fold, leaving Mardi Gras in undisputed charge of the march parade for the rest of their time ru(i)ning the event.
Paul Wilde
One of the people behind Pride Events UK, the group that failed to run the Pride '98 festival, first postponing the event then going bust without paying the promised refunds to the people who had bought tickets.
He resurfaced as part of Wilde Ones International, sellers of crystals from a shop on London's Kings Road… and the organisers of the commercial bits of pride festivals. No, I don't see the link either.
They were running part of the Brighton Pride in 2002 where over £10,000 went missing rather than going to the charities it was promised to.
They were also responsible for the marketplace stalls at Mardi Gras' 'Pride in the Park' in 2003. Their emailed (appallingly badly formatted) MS Word documents proclaimed "This organisation is committed to upholding the eight Data Protection Principles of good information handling practice".
Unfortunately, they emailed them by sticking everyone's email addresses in a cc: line, so everyone who received it knew everyone else's email address…
Jason Pollock
Despite his losing nearly a million quid running Mardi Gras' festivals and his initial inability to realise that he'd lost over £200,000 even after charging up to £30 a head to attend its final event, 'Pride in the Park' in 2003, Jason managed to get Ken Livingstone's blessing as Mayor of London to be in charge of running the much smaller Pride London events from 2004 to 2007.
"A sometimes combustible character" said the obituary in the Guardian after he died in 2011.
Notes

↑

1
If they went 'home – march – festival – club – someone else's home – home', it'd still be 200,000 people and obviously many people skipped the march and went 'home – festival – home'.

↑

2
The publishers would make money from selling ads in it.

↑

3
In the end, their publicity said that 'concession' price was £3.

↑

4
The Pride Trust had owned the UK registered trademark for 'EuroPride', but it looks like that lapsed while in control of the bit of the government that gets such assets of collapsed companies without ever being sold to anyone else, including Adam.

↑

5
At one early meeting, Pride (London) decided that they didn't have the resources to be part of that EuroPride '99, and that may have been a factor in it not coming to anything.

↑

6
The group had numerous other names including Windwood, Mindmaster, Boyz Own Productions etc etc, but this is the name that was best known.

↑

7
The gay activist whose actions led – after a year's delay, thanks to Stonewall agreeing a bad deal with the then Labour government, but that's another story – to the equalisation of the age of consent in England and Wales, not the wonderful satirist.

↑

8
When Capital Gay closed, Chronos quickly started a replacement paper, Gay Gazette, to stop anyone else trying. Having succeeded in that, they then closed it after a few months when it was too late for anyone to try.

↑

9
An idea of the turnover of staff is given in an article in the Independent at the time which noted that despite never having more than thirty staff, Chronos had had over seventy people leave within three years.

↑

10
Given that £10 x 65k is only just over half the claimed cost of the festival, this shows how much money was charged for sponsorship and concessions that year.

↑

11
Figure from Kelvin's Pink Paper – I love the "around"!