Bisexual Lives came out of the second BiCon, "The 2nd Politics of Bisexuality Conference" in 1985. It was mostly written by the time of the 4th National Bisexual Conference in 1986, and finally published in 1988.
I think two thousand copies were printed. At one point, I had about ten copies, thanks to finding them cheaply in second-hand bookshops etc. Most found new homes at later BiCons, but when someone wanted a copy at some point around 2004, I didn't have any spares, so I scanned and OCR'd it, then turned it into HTML. It had a secret life at ukbi.info for a while, before that expired. Bi History Month seems a good time to republish it.
I've had permission to republish this from everyone I could track down back in 2004 (most of them!) ..
.. with the exception of one person..
.. who always used a pseudonym for their bi community stuff..
.. but still said no.
I'll see if I can get an edited version they are happy with.
I've added some annotations at the bottom of a couple of pages. These weren't in the original, or the previous web version. What's not (yet) been added are the portraits of the various contributors.
Ian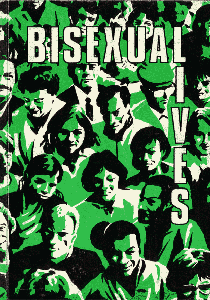 Back cover text:
"We are not sitting on the fence.

We are building a new garden."
Bisexuals are people who experience a desire for emotional, sensual or sexual relationships with people of both sexes. There are an enormous number of them in the world. This book contains a collection of short pieces written by bisexual women and men about their experiences of what it is like to be bisexual.
I've never much cared for the term 'Bisexual' – it's been a cop-out for too long by those afraid to openly call themselves 'Lesbian' or 'Gay'." To the queerbasher any man who sleeps with other men is a 'poof'. Why argue? I've always been quite happy to stand up and be counted as homosexual. The hell with fine distinctions, I thought – let's unite and fight.
"But bisexuality is a different way of relating, as I've slowly discovered over the years, defying rigid black-and-white definitions. Unite and fight isn't that simple when you live with a member of the opposite sex. Nowadays while still considering myself gay, and glad (AIDS notwithstanding) I find I've also become – emotionally speaking – glad to be grey!
Tom Robinson (11.2.87)
"Only when it is recognised that the territories of hetero- and homosexuals do, in fact, overlap can a new era of tolerance begin. The time will come when the fact that every human is bisexual is understood and accepted. It will come when the present permissive and obsessive society is transformed into a relaxed, understanding and knowledgeable one."
Charlotte Wolff
(Love Between Women, Duckworth 1971)
ISBN 0 9513103 0 5 Price £2.95
Contents
Introduction
About Ourselves and this Book
Bisexuality
KATE FEARNLEY
Coming Out
DAVID BURKLE
Friends
CLARE
Fantasy
BRIAN MACGOWRAN
Masturbation
SARAH
Sex
MIKE BLACKMORE
Celibacy
ZAIDIE
SHARON
Long-term relationships
PINK DANDELION
Marriage
MANDY MOORE
Families
ANDY
Children
ANNA
Bisexuality and AIDS
Being Bisexual – Towards a Definition
Further Information (Bisexual Groups and Contacts)
Selected Bibliography
A Final Word
First published by Off Pink Publishing 1988
© Individual articles – the authors
© The collection – Off Pink Publishing